Simplicity and efficiency!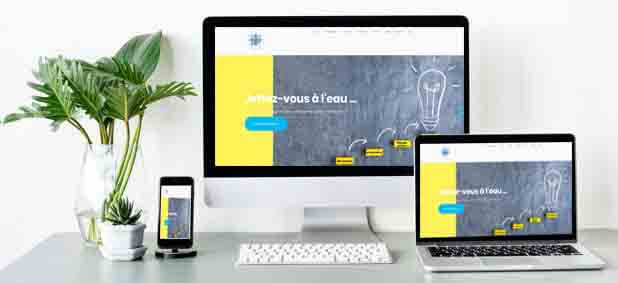 Today, creating your website is essential and essential to develop your business.
Your showcase site must represent your business, votre organisation, votre produit … C'est avant tout un outil de travail et comme tout outil de travail, chacun dans l'entreprise doit se l'approprier !
Darebusiness advises you in the creation, optimization, referencing of your website.
We support you in your project by bringing you our expertise and by offering you the solutions best suited to your activity and your budget for the creation of your website.
Ensemble, nous définissons les objectifs de votre site afin d'établir une trame spécifique qui correspond à votre activité.
Are you new to this? Do you have tons of questions?
We will try to answer the main questions that arise before creating a site.
How to create your site internet ?
Essential step of a company, the website is part of a global communication strategy. Avant d'entreprendre la création de son site Internet, il est indispensable de se poser les bonnes questions :
Choice of host,
Choice of the type of hosting and the options offered: disk space, CDN, SSL, multisites ...
Domain name
and finally the choice of the management tool for your website.
Indeed, this last question is very important for the continuation. Most site management tools meet most needs, showcase sites, institutional sites, blogs or sites e-commerce. Some are more suitable than others for this or that type of site, but overall, le choix de l'outil ne doit pas se limiter qu'à cette dimension.
How to choose the right CMS (Content management system)
This is a delicate step which will require a precise analysis of the costs, of your skills and / or competences available in your company or to come and of your time!
Costs
All website management tools offer different services and therefore do not have the same costs. You will need to accurately estimate your needs and your budget to gradually eliminate the list of available CMS.
First, we must consider two main types of CMS :
the CMS Open Source. These last are free and their code is fully accessible. MAIS et oui il y a un 'mais', il nécessite d'être un minimum autonome sur le langage web. Il existe des communautés et des forums dédiés à l'outil qui peuvent être d'une grande aide ainsi que des plugins payants qui pourront apporter des solutions clés en main. Les mises à jour de l'outil, des plugins et tous les paramètres seront à réaliser par vos soin.
the CMS in SaaS . They are often paid or partially free (limited functionality and / or presence of ads). Indeed, a service provision is provided for all the technical part (Base de données, configuration serveur, mises à jour, etc…). Les thèmes proposés sont esthétiquement bien réalisés et vous trouverez certainement celui qui s'adaptera le mieux à votre business. Le bémol…. le référencement de votre site est assez limité et vous ne parviendrez pas facilement dans les premiers résultats des moteurs de recherche. Ce qui est essentiel aujourd'hui pour se démarques de ses concurrents.
Maintenance
Not all CMS are created equal for the maintenance of your site: some require manual updates to avoid security breaches, others update automatically and others are maintained by a service provider but not all are equal when it comes to reactivity ... Depending on your knowledge and your availability in terms of time, one choice or another will be preferred. If your technical knowledge is limited in this area, it is preferable to go through a SaaS CMS where a service provider will take care of the technical part for you. 
Ease and simplicity of handling
It is certain that the Sites Internet « clé en main » sont plus ludiques. Ces éditeurs de pages sont faciles à prendre en main et permettent d'ajouter du texte, des images et tous les contenus rapidement avec des options complètes en terme d'esthétique. Cependant, le CMS payant propose des fonctionnalités beaucoup plus poussées et personnalisables à souhait.
Also, do not think that once your site is launched you will no longer need to access it either in free or paid CMS. Technical updates but also content will be essential to make your website sustainable.
The different types of website?
A business website is the showcase of your business. We find important information such as your address, your logo, your products, your services…. In short, this isyour business identity.
This storefront, like a physical storefront in a street or shopping mall, must catch the eye and stand out from the crowd to be seen!
It is therefore both a communication tool, a sales support tool and a very powerful and powerful marketing tool.
There are two types of website.
the showcase site or blog,
the eshope, également appelée online shop ou site e-shop.
---
You have a project ? Do you wish to develop your activity ?
and need help choosing the tool that's right for you?
Contact us using our online form
Following your request, we will get back to you as soon as possible to jointly define your needs and objectives.
We can then send you a detailed and costed proposal.
Follow us on social media!