In addition to your physical store or as a main activity!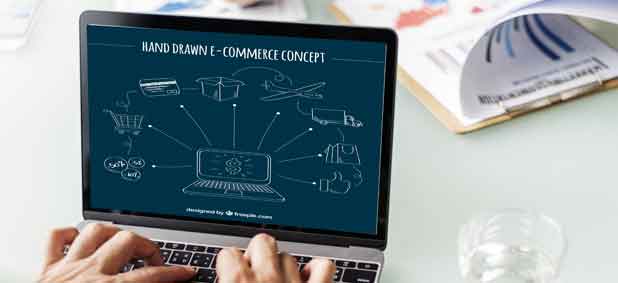 To sell its products or promote its services, companies create their site e-shop online
Number of e-shop grows each year between 15 and 20% and all sectors of activity are concerned. So why not you ?
Now accessible to everyone regardless of your level on the web, you can design your online sales website. But beware, the choice of your e-commerce CMS is very important.
Darebusiness advises you in the creation, optimization and referencing of your e-commerce site.
We support you in your project by bringing you our expertise and by offering you the solutions best suited to your activity and your budget for the creation of your website.
Together, we define the objectives of your site in order to establish a specific framework that corresponds to your activity.
Are you new to this? Do you have many questions?
We will try to answer the main questions that arise before creating a site.
How to sell well on the Internet ?
ou want to sell your articles or services on the Internet in support of your store or in creating your business and you are right…. now it's a way to develop your business and be visible to the whole world if you have followed all the steps. Before starting any website it is necessary to recap the objectives online website. You must :
Develop an online sales strategy
Choose the sales channel: sell through your own online store, a marketplace like Amazon or social networks
Find out which products or services to sell online
Attract new customers.
Once these steps are clearly defined, you are ready to define which e-commerce site is right for you.
Two distinct families of online sales sites
An online store to sell products
Whether you sell socks or cars through green products, B2B or B2C, the approach to visibility is the same.
You will also have to consider the management of orders, stocks in the choice of the tool.
To sustain your business, your website must attract as many visitors as possible. It must therefore be based on an effective strategy, by offering quality products at attractive prices. So you will stand out from your competitors.
An e-commerce site to sell services
Selling services through a website involves promoting services to individuals (B2C) or businesses (B2B), through an interface accessible on the Internet. The web solution is generally easier than the one offered for the sale of products because you will probably not have stocks to manage but no service should be neglected because the customer is demanding (example: management of subscriptions, packages, etc.)
Tools specialized in online sales
Free e-commerce CMS
the CMS Open Source. These last are free and their code is fully accessible. BUT and yes there is a 'but', it requires to be a minimum autonomous on the web language. There are communities and forums dedicated to the tool which can be of great help as well as paid plugins which can provide turnkey solutions. Updates to the tool, plugins and all parameters will be done by you. WORDPRESS, PRESTASHOP, SHOPIFY ...
Paid online store CMS
the CMS in SaaS . They are often paid or partially free (limited functionality and / or presence of ads). Indeed, a service provision is provided for all the technical part (Database, server configuration, updates, etc…). The themes offered are aesthetically well done and you will certainly find the one that best suits the products or services offered for sale. The downside…. your site's SEO is quite limited and you won't easily make it to the top search engine results. Which is essential today to stand out from the competition. WIX, IONOS, SHOPIFY ...
---
You have a project ? Do you wish to develop your activity ?
and need help choosing the tool that's right for you?
Contact us using our online form
Following your request, we will get back to you as soon as possible to jointly define your needs and objectives.
We can then send you a detailed and costed proposal.
Follow us on social media!