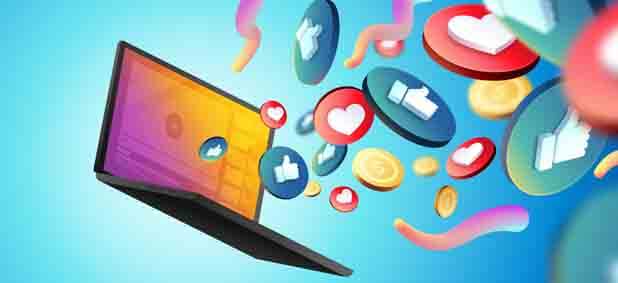 Why care about social media?
Let's clarify what social networks are. It is exchange platforms for Internet users. Brands are one of the many topics addressed by them, whether to give an opinion, positive or negative, or to give feedback, share information ...
In terms of communication and marketing, it is therefore aboutan interesting universe to explore, which can allow you to improve your notoriety, your image and therefore directly impact your turnover and more generally develop your business.
In an ultra digitalized world, the social media strategy is essential! This is therefore an essential step for your business, small, medium or large!
What are the advantages of Social Media?
Social networks today affect all categories of individuals: gender, ages, socio-professional categories, interests ... There are many opportunities available to you regardless of your sector of activity.
Therefore, you can target your marketing strategy and orient your communication according to your needs: Recruitment, Loyalty, Notoriety…
Increase the visibility of your business
By diversifying your company's presence on social networks, you improve your general visibility. Social networks will on the one hand help improve your presence on the net and therefore develop your ranking on search engines.
Recruit your future clients
In addition, social networks are intended to reassure your prospects and establish dialogue between different members of communities. They allow you to communicate directly with your customers or prospects, to answer their questions or to inform them about your news. But also to share information and your news. Thus, thanks to Internet users who are already customers of your brand, you will be able to convey a beautiful image with their comments and remarks on your products.
More easily retain your customers
Your customers will know where to find you. If they are satisfied with your products or services, they will communicate easily on your social networks. They will also be able to quickly access the desired information: contact, after-sales service, new collection, etc.
Inform internet users
You want to communicate quickly about a product, an event or a problem. Indeed, thanks to social networks, you have this opportunity to dialogue on vast subjects easily. In addition, with social networks, the dissemination of your information is immediate and the feedback from Internet users will not be long in coming.
Find new collaborators
Some social networks are intended to promote your business, especially in B2B. You will be able to highlight the company's philosophy while creating cohesion with your employees.
In short, you will understand, you can no longer ignore social networks to develop your business!
---
You have a project ? Do you wish to develop your activity ?
and do you need help choosing your social networks and designing a digital communication plan?
Contact us using our online form
Following your request, we will get back to you as soon as possible to jointly define your needs and objectives.
We can then send you a detailed and costed proposal.
Follow us on social media!